So I was driving home from work on Wednesday night and was thinking yay I've got gift cards from Christmas and I'd love to find an outfit for Friday night or for my birthday next week. But then I submitted to the fact that I just don't have the time or the inclination to go shopping. I'm actually allerrrrg to shopping!
(Translation for non-Corkonians: Allerg- = slang for 'allergic to doing something' in other words 'not liking doing something' or in some instances 'not liking someone' i.e. I'm allerrrrg to him!)
I can't cope with bringing a lash of items into the changing room and none of them looking good!
So then I thought to myself, how cool would it be if you could 'try on' clothes online where you have a 3D image of yourself, select the item of clothing to put on the image. Then if you like it, you add it to basket, order it and it's delivered to your door! Clever right?!
That's the dream for people like me who don't like shopping or don't have time to shop (told you I'm all about common sense AND nonsense)!
I was actually just going to put a little #RandomThought #WhatsTheHops Facebook post up about it but said I'd google it first in case some very informed person comments that it already exists! (And of course I hate to be last to the knowledge party!)
So low and behold, I google it and there it is in an issue of entrepreneur.com from May 2013. How have I not heard about this before? Madness!
It says that online retail sales in the US had 'high return rates–which occur in large part because consumers order multiple sizes of each item, then return the ones that don't fit–are costly for retailers.'
And to provide a solution to this and my aforementioned #RandomThought, there is a London-based technology company, Metail, founded in 2008 that owns this type of 3-D Tech.
Here's a video with an overview.
'This morning' in the U.K. used it here too which is a much nicer real-life explanation.
The entrepreneur.com article says;
'Shoppers can upload a photo of themselves and information about their body size–height, weight and hip, chest and waist measurements–and the service creates a 3-D avatar that is 94 to 96 percent accurate, according to Metail's research.'
How does it work though?
entrepreneur.com Journalist Gwen Moran says 'On the retail side, the company digitizes clothing collections by photographing items on a mannequin at various angles. The software then merges the garment images with the customer's avatar. So, if someone chooses a pair of pants, they can see where the rise and hem fall, whether the waistband lies properly and even how the fabric drapes on the body. They can add a jacket and check out the length and fit in the shoulders. They can even select alternative hairstyles to see which looks complement the outfit.'
Its first client was U.K. retail giant Tesco;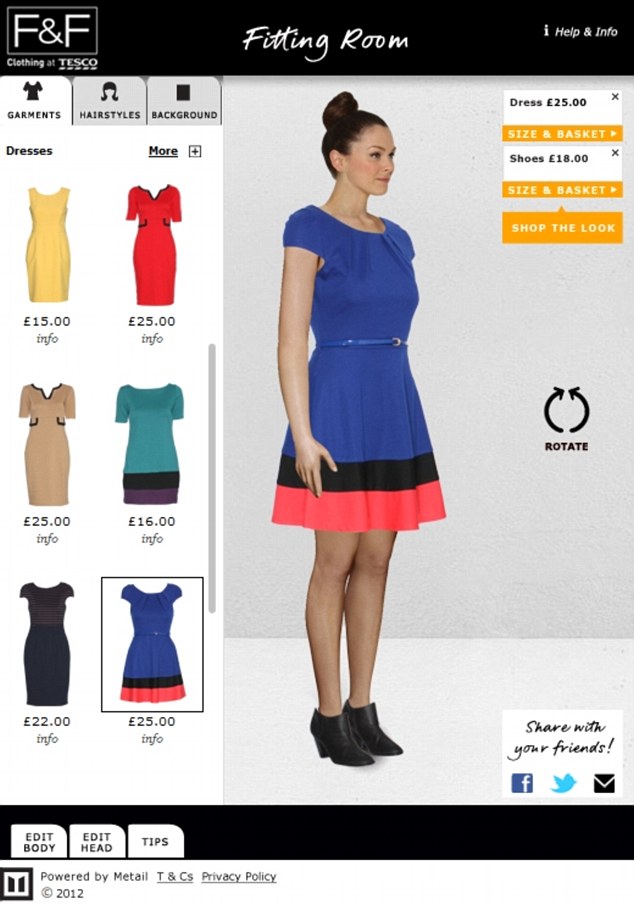 followed by retailer Warehouse who added the technology to its website, then House of Holland and now and they have expanded globally.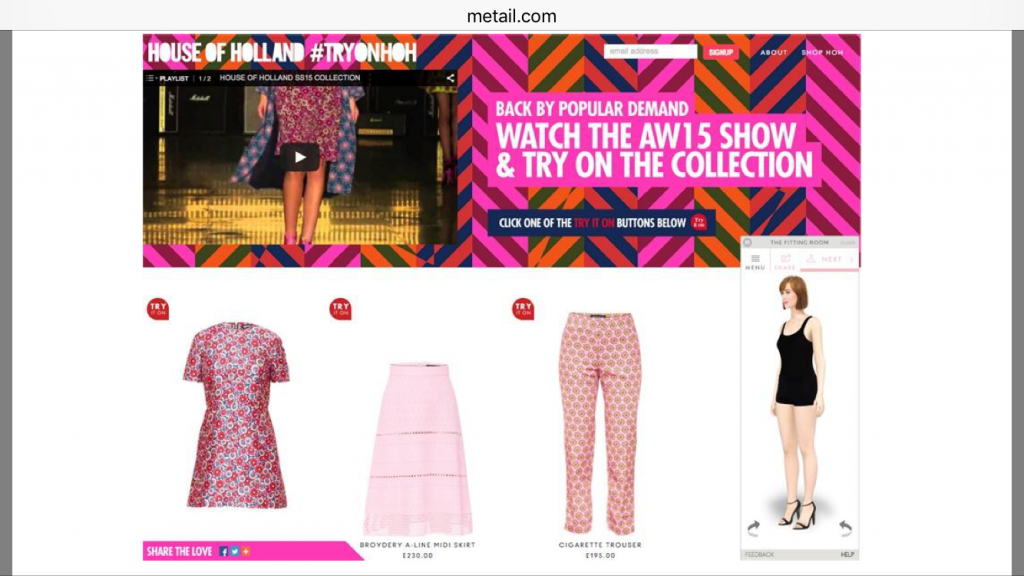 But can we use this 'lifesaver' technology on Irish retail sites?
Well it appears from their website that they aren't in Ireland yet but they are in the U.K. with House of Holland, Evans and BTs! There was an option on the site to request a trial which I've done (I still await the email). I also sent them a tweet to see if they're in Ireland and with which retailers and here was there response which I have yet to action (due to my actual day job taking up my time – not complaining though!).
'Hi, thanks so much for tweeting out! We don't have any retailers in Ireland, however we do work with House of Holland and Little Mistress here in the UK. If you want to jump on a call to learn more about us I'll be happy to chat, just let me know! Thanks,'
Finally, having searched briefly on the warehouse and Evans websites for the 3D try on option, I've had no joy – so it probably just serves those site in the U.K. as suspected.
So my next step is to get back to these guys, set up a call and see when Ireland will be graced with the presence of this magical technology!
So hold tough, watch this space and I will find out what the POA is (Plan of Action in case ye think I'm talking jibberish)! I need this technology in my life!
In the meantime, have a look on their website http://metail.com/ or they are on the usual social media platforms!
Oh and upon further inspection I have found that there have since been a few other similar companies such as fitle, dressformer and fitnect (and many more). Which is the best? I'm not sure but hey at least we know it's there, it should only get bigger, and our changing room blues could eventually be over!
Stay tuned!