Sun's out, fun's out! Well ok, maybe the sun doesn't really know whether it's coming or going, but hey let's stay positive! This post is actually one I've been dying to write since I set up my blog back in January (2017).  Even my 'About Me' section features a pic of me in festival mode! Annnddd my logo is a french bulldog in her festival floral crown! Need I explain more how much I love festivals?!!! Sure why not!
Festival season is my time of year, it's when I get to let the hair down and be the free flower child that I always was.  Festivals just give me that real feeling of freedom – you can let your hair down, be who you really are and be around those you really want to be around – without a care in the world.
I think it was back in 2006 when I first started going to festivals and ever since then, a year hasn't gone by where I haven't had at least one festival outing per year. I even brought my Mum to Body & Soul one year and I'll be bringing her to Electric Picnic this year too! Obviously I didn't lick my love for festivals off a stone!!!
This year I'll be hitting Live at The Marquee, Indiependence, Electric Picnic, A Taste of West Cork Food Festival. Puck Fair and Cork Craft and Design Month, to name but a few – and I cannot wait.
One of the reasons for this blog post is lists and checklists! Every year, I make a checklist, be it the line-up of who's on, what's on, what day and what time and which acts I want to see…or the never ending list of music festival essentials!  I even build my work holidays around festivals! Obsessed much?!!
So to save all you festival goers the hassle of writing your own, I have included a prrrrrrretty comprehensive list of my music festival must-haves below. Hopefully it helps.  This will probably be the first of a few festival blog posts so I'll keep it to bullet points! Get ready to copy and paste, share or save the below – coz trust me it's got it all!
Festival Essentials Checklist
Tickets – I know it's obvious but put it on your list!
Black bags – for your rubbish, your mucky boots, in case of a flooding emergency in your tent!
Toiletries
Sun cream – lads, if the sun's out, you don't wanna get sun stroke and ruin the rest of your weekend.
After sun – if you are stooped enough not to but sun cream on – then nuf said – bring this!
Antihistamines – if you get an aul nibble of some fecker of an insect!
Mozzy spray – keep those feckers away!
Toothbrush and paste (and mouthwash – gandi's flipflop tongue is not attractive guys!)
Loo roll – you can never have enough – bring some in your bag for the main arenas in case the portaloos are all out
Hand sanitiser – because the likelihood is there won't be any soap or sanitiser there
Blue loo juice and a trolley if you're in a campervan – coz you can be damn sure every tom, dick and harry will wanna use your loo and you'll have to empty the flippin thing!
Towels – for the shower and the washing up
Sleeping bag/blankets – and plenty of em! It can get cold out there – camping, glamping or campervanning!
A plug in mini heater – if you're glamping these guys are a god send – for heating the place up and more importantly for drying your wet clothes!
Chargers – portable, plug in, solar – bring em all
Deo for the BO! – need I explain!
Perfume – don't bring your expensive one – you'll either break it or it will leak!
Face and Body moisturisers – soooo refreshing when you can't have a shower in between your favourite acts or if you need to wake yourself up a bit!
Dry shampoo – if you're not or you're too afraid to use the communal showers
Baby wipes – as per dry shampoo! And they are handy for everything!
Makeup
Tan – yeah sure look we have all seen the odd tangoed festival goer but by the same token, very few can pull of the pasty plump paddy look!
Hair dryer – if you're glamping
Face paints – come on let's go all out! Why not buy yourself some glitter and gems too and go mad!
Festival Fashion
Rain coat – keep it light so you can ball it up and put it in your bag or tie around your waist
Wellies/socks – make sure the socks come over the top of the wellies so they don't cut the shins off ya!
Booties – for the optimistic kind that don't think it will be a mud fest!
Runners – to slip on once you get back to dry land and don't have to drag your feet around in wellies
Flip flops – trust me! Fierce handy! Especially for going to the loo in the middle of the night (if it's dry obvs)
Pjs – shorts, tshirt, fleecies, onesies – the lot – you can never tell how hot or cold you are! I always bring a shorts and tshirt and then a fleecie onesie (the most ridiculous one I can find) with a hood!
Comfy clothes – yeah we all want to look festival chic but make sure you're comfortable too! You need to be able to last the whole weekend!
Hoodys/jumpers
Furry socks and ankle socks
Lots of t-shirts
Leather jacket
Leggings
Jeans
Dresses
Bags – cross body are handiest so you can dance your little arse off!
shorts
shirts
Hats – to cover the greasy hair, keep off the rain or sun or just because you want to!
Sunnies – defo sunnies – sure most people wear them even when it's not sunny! They are more of an accessory than an essential at Irish Festivals!
Swimmers – sure you never know you might fancy a dip in a lake or a hot tub – if you dare!
Accessories like Floral headbands/Turban and brooches for same/Feather earrings/Necklaces
Bracelets etc.
Here are a few pics of my favourite festival outfits and accessories! You can tell I love the ole headpieces!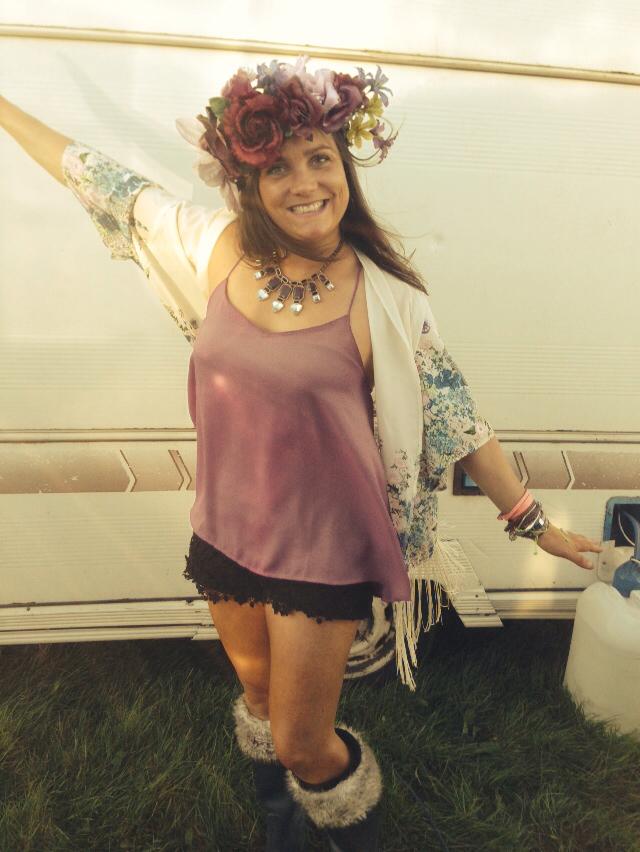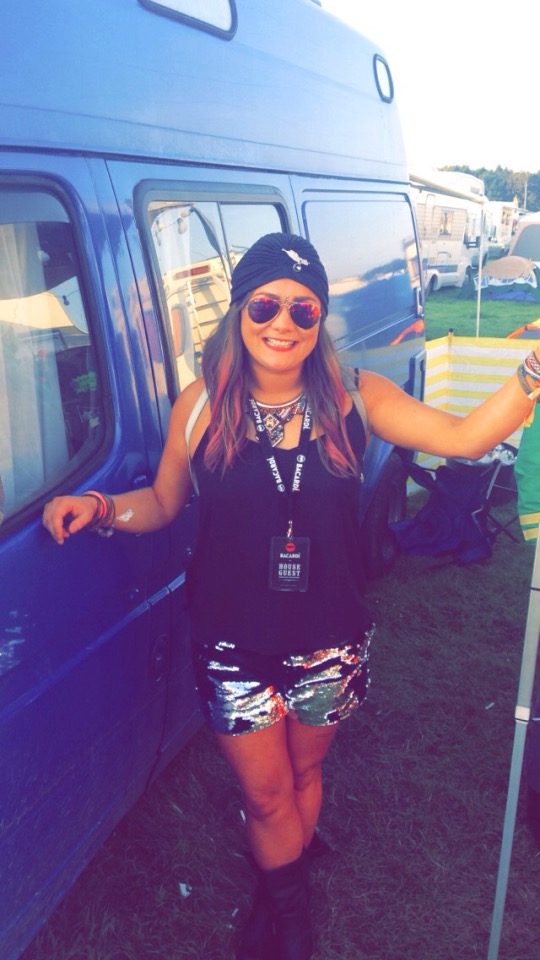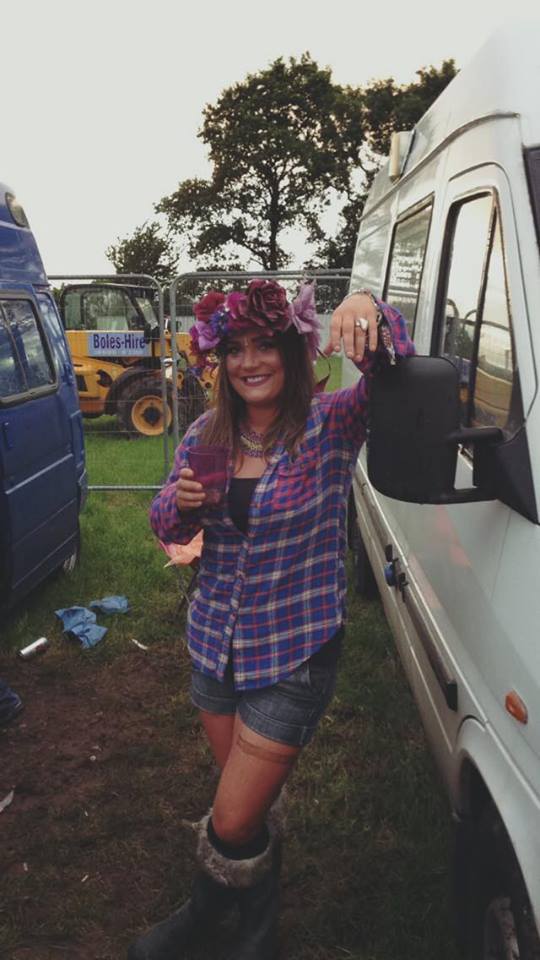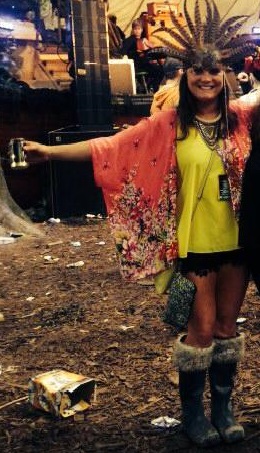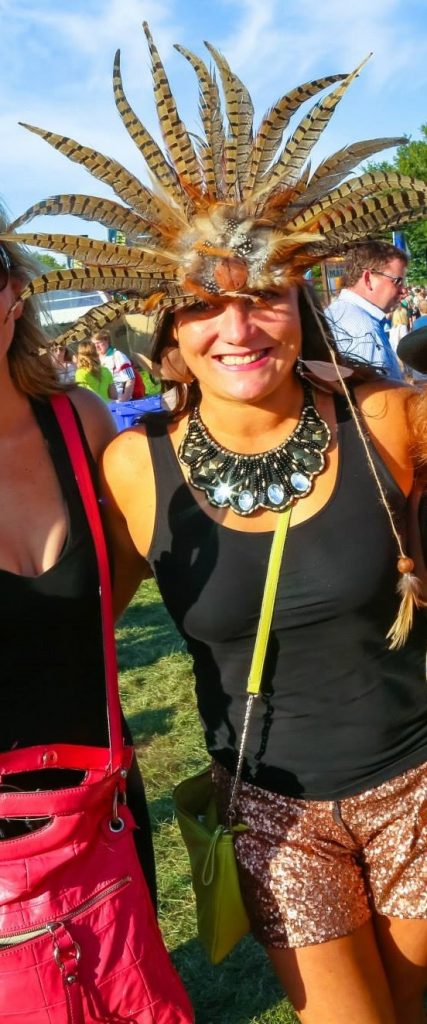 Myself and MarMar having a little tipple from the hipflask! Love this gold jacket!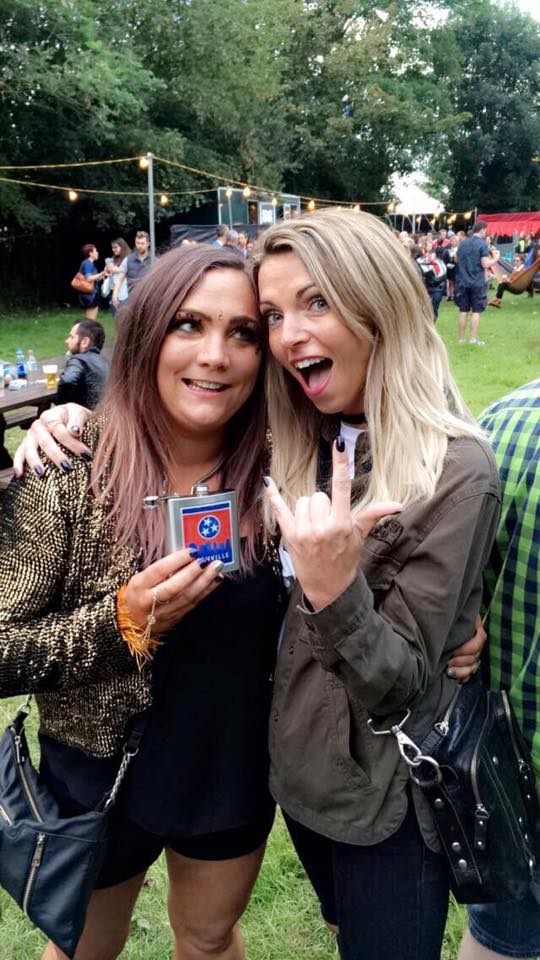 The last one I threw in for the laugh – sure I thought I was hilarious with my banana pants at Indie!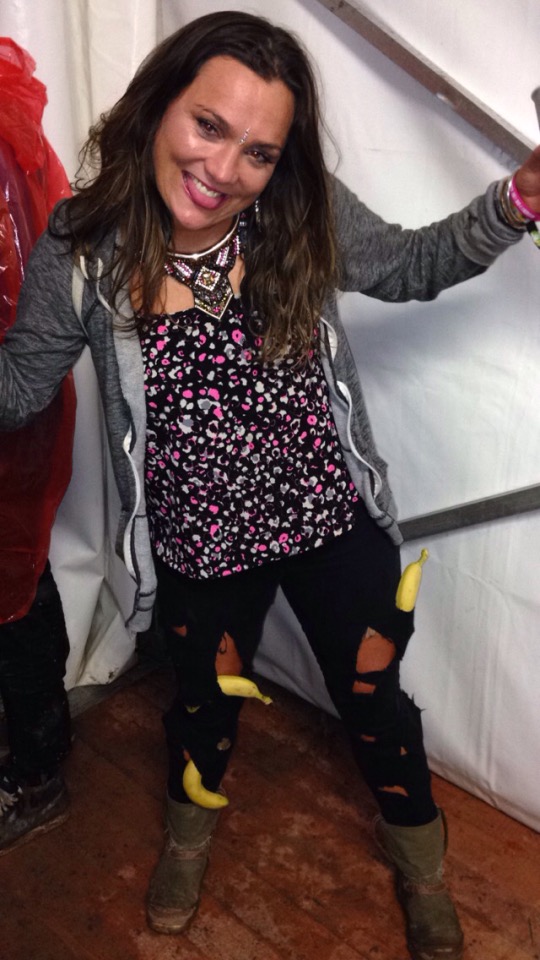 Anyway hope you got a good ole laugh from those pics, back to the lists now Judy!….
Sustenance!
Water – as much as you can carry!
Drink – transferred to plastic bottles – glass bottles are generally not allowed!
Mixers – for your boozing and for a bit of fizz in the morning/avo!
Ice – for day one – sure why not enjoy a cold brew on your first day!
Water/gas for camper – if you're in a campervan – fill her up at the closest petrol station to the festival site and make sure your gas bottle is full for the fryup in the morning.
Food – for the mid-night munchies or early morning snacks while you wait for the food queues to die down.
Pre-sliced Cheese and Crackers – coz they're easy to prepare!
Chocolate – for an energy boost!
Crisps for a bitta crunch!
Teapot, cups, teabags/coffee, milk, sugar – if you're in campervan mode or even glamping so you don't have to queue for a cuppa!
Chopping board – for the sangiches!
So there you have it folks! Now, if you think I've left anything out, please do comment below or DM me because there's nothing worse when you forget an essential and there's nothing better when someone has a really cool idea for festival season!
In the meantime, here are a few of my festival and event suggestions for the coming months:
The Irish Examiner Cork City Marathon – this Sunday – Swap your Sunday drive for a run, walk or jog as the 2017 Irish Examiner Cork City Marathon has a new race date of Sunday 4th June. After a decade of participants marking the end of their June Bank Holiday weekend crossing the finish line of the Cork City Marathon, organisers have answered the requests from past and potential participants to move this iconic race to Sunday. With almost 10,000 participants last year and increased numbers expected in the Marathon, Half Marathon, Team Relay, Inter-Services Championships and Youth Challenge, the Irish Examiner Cork City Marathon has firmly secured its place on the Irish sporting calendar as one of the must-attend events of the year.
Live at the Marquee – bringing the festival feels to Cork from the 9th of June to 14th July. To be fair to the guys at Aiken Promotions, they always put on a great lineup in the Marquee with something for all ages.  I'm definitely going to check out Jennie Greene with the RTE Concert Orchestra, Emeli Sande and The Coronas.
Cork Craft Month – throughout August – an array of gallery events, exhibitions, workshops, demonstrations, pop-up shops and fairs showcasing the work and talents of Cork Craft and Design members, a cooperative made up of professionals who make their living from craft and design. Cork's Craft Month, now in its eight year, promises to uphold the diversity, innovation and creativity for which the event series has become known.
Indiependence – 4 to 6 August – THEEEE Cork Music Festival, in Mitchelstown! Some super acts playing like Manic Street Preachers, The Coronas, Tom Odell, Wild Beasts, Hermitage Green and so on.
Puck Fair – runs annually from August 10th-12th – Killorglin's much loved Puck Fair, is undeniably one of quirkiest festivals in the world, as well as being Ireland's original and oldest 'Gathering Festival'. The pinnacle of the celebration surrounds the crowning of a wild mountain goat as the festival's King which honours a tradition and heritage that is purported to be ancient, but can only officially be traced back to 1603 when King James I issued a charter granting legal status to the existing fair in Killorglin.
Electric Picnic – 1 to 3 September – Sure do I really need to explain this one? Although I cannot wait to see A Tribe Called Quest, Annie Mac, Chaka Khan, London Grammar, Madness, Pete Tong and the Heritage Orchestra's Ibiza Classics and sure look you get the gist! (I could literally be here all day naming them all!)
A Taste of West Cork Food Festival – 8-17 September – Ten days of workshops, walks, chef dinners, historical tours, food trails and more in over 32 towns, villages and islands in West Cork (my second home!)
The Nightmare Realm – all through October – an extreme walk-through scare house attraction set in an old creepy warehouse (in Cork and Dublin). The themes can be controversial but are always thrilling, pushing the boundaries of your sanity. Over 100,000 people have faced their fears in the Nightmare Realm since it first was established in 2009.
So like I said at the start – this is probably one of many festival posts but hopefully it has given y'all some idea of what's to come and what you'll need for the festival season ahead!
Enjoy and see some of you at one or all of the above.
WOOHOO!
Hoppy out! x